AN OBJECT, A STORY. Beautiful objects with a story to tell. Pull up a chair.
Loys Lucha, flowers for every season
Loys Lucha, where flowers bloomed all year round. This luxury Art Deco Loys Lucha light first adorned a room in a fashionable Parisian home. Read more.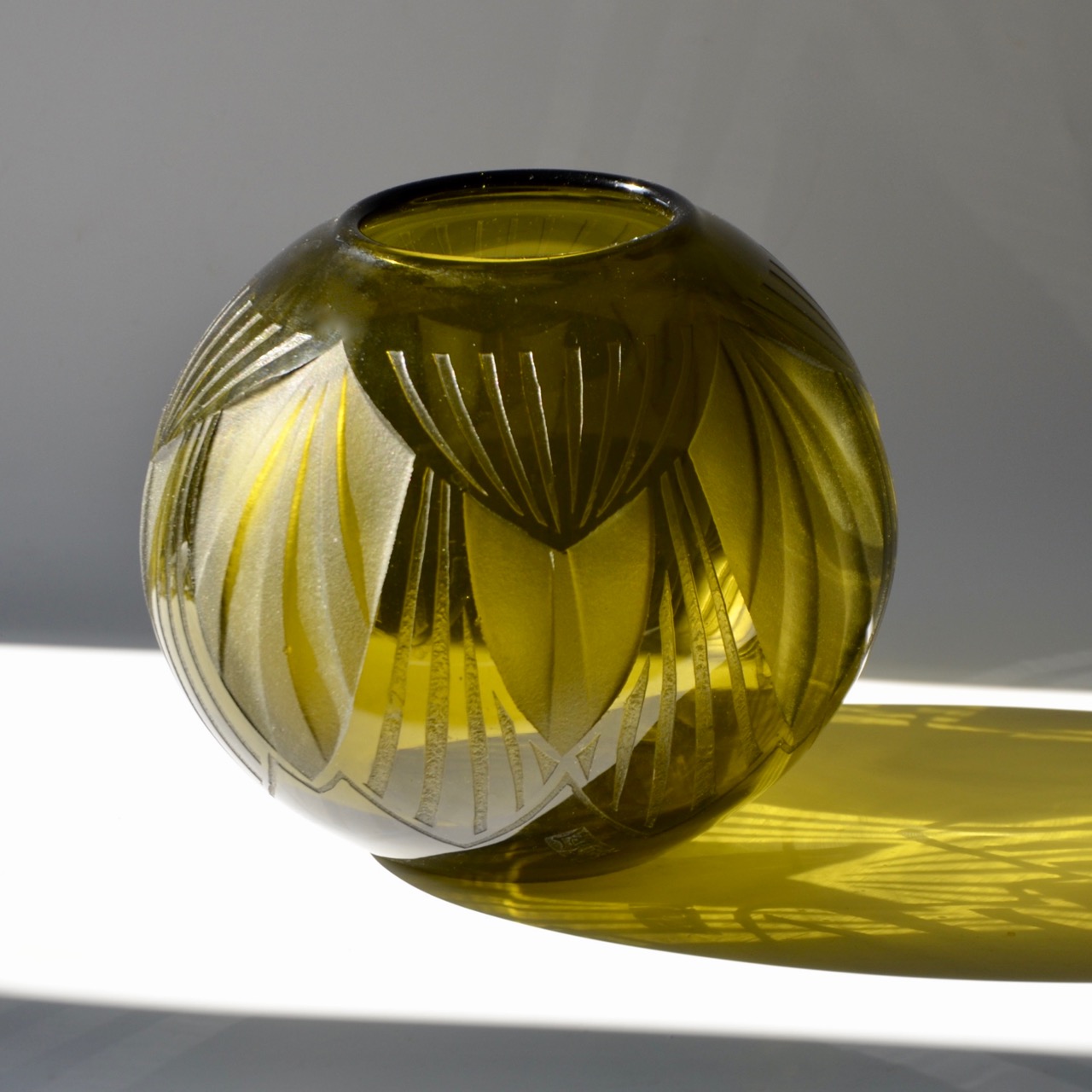 Legras glass and its legacy
Legras glass is one of the great names of French antique glass. We're pleased to offer some gorgeous examples in our shop, and we regularly add more.
A good deal is known about this formidable glassmaker, but that still leaves room for plenty of myths and misunderstandings! Here's a primer. Read More.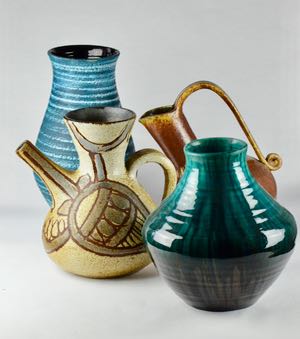 The Road to Accolay
On the trail of Mid-century French ceramic design.Few items sum up French mid-century optimism better than this beautiful hand-thrown pottery vase by Accolay. In the 1950s and 60s, a stop-off at the Accolay pottery studio was a ritual for Parisians driving down south to spend summer on the south coast of France. Read more.
Charles Greber – Nuts about Art Nouveau
I had to wrest this Charles Greber Art Nouveau jardinière from the "homme de ma vie" He thought it would make a good receptacle for storing his hazelnuts. Well, it has been a bumper year for hazelnuts this year, but even so… Read more
Foxy cocktails
Stylish barware from the age of Art Deco. Who could resist the this dapper fox, with his paw on his breast, as he prepares to charm the cheese from the crow's beak?
This French Art Deco cocktail stick set perfectly captures the humour of one of my favourite fables by La Fontaine – "Le Corbeau et le Renard" (The Crow and the Fox). Read more.
Georges de Feure, a quintessential Art Nouveau designer
An intriguing signature on the base of this lovely old vase. It's crisply moulded, very heavy and obviously special. But who was Georges De Feure? A factory? A studio? An artist? An artist, it turns out – and not just any old artist. Georges de Feure (1868-1943) was at the epicentre of Art Nouveau at the moment it took off in Paris. Read more.
Leune, and a brace of exotic birds
This flamboyant Art Deco vase is a perfect example of the taste for enamelled glass in France in the 1920s. It was made by Leune, a Paris glass factory that was in business from around 1900 to 1930. Read more.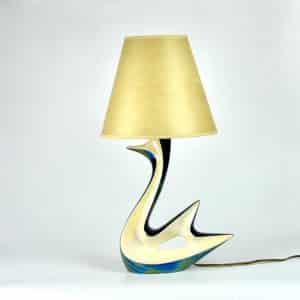 Verceram – a mid century mystery
This fabulous mid century lamp is  by the French pottery, Verceram, a company that perfectly captured mid century style in France.
I first set eyes on Verceram pottery when I moved to France, and was immediately struck by how different it was from other 1960s ceramics I knew. With its bold contrasts and groovy shapes, it might have come from another universe.
A bronze fox and a remembered fox
Confession time. I don't go in for writing poetry much, and haiku is strictly my limit. But what struck me when I saw this elegant silvered bronze fox by Valmazan was how well it captures a moment in nature,  and makes you think about it. In the same sort of way as a haiku does. – Seeing me too late, – He freezes. Turns. Vanishes. – Was he ever there?
My fox encounter was while I was out walking in heathland at dusk… Read more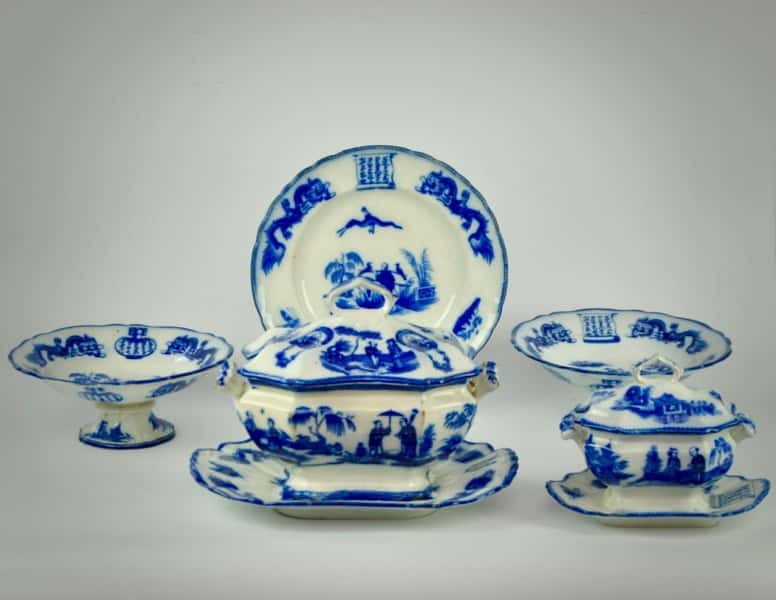 Dragons and pagodas – Johnston et Vieillard Bordeaux
This Johnston et Vieillard porcelain dinnerware is a survivor from the days when ladies wore crinolines, and dinner tables groaned under the weight of china, crystal, silverware and delicacies.
It's from the 'Tonkin' service, and was made in the 1850s, during the Second Empire… Read more.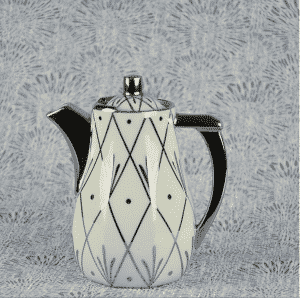 Two's company …
Chilly days call for chocolate chaud – especially when it's served in something as pretty as this French vintage Aluminite Frugier porcelain breakfast pot from the 1920s/30s.
It's ideal for two people, or just for treating yourself. (Qui peut le plus, peut le moins*, as the French saying goes).
Rescued from decades of dust, the silver glaze as bright and… Read more.
CULTURE TRIPS 
We went, we saw, we were inspired.
Gustave Caillebotte, the "other" Impressionist
Time for a cultural interlude, with some bucolic charm thrown in. Last weekend, I visited the country home of Impressionist painter, Gustave Caillebotte – and it's a jewel. Read more
Four Paris exhibitions for fashion history fans
Heading to Paris? Fancy yourself a costume buff?  You're in luck. There's a swathe of exhibitions on fashion history from now through to summer. Read more.
DESIGN IN PERSPECTIVE
Sometimes it's good to take a step back and discover the backstory.
A century of style on France's great ocean liners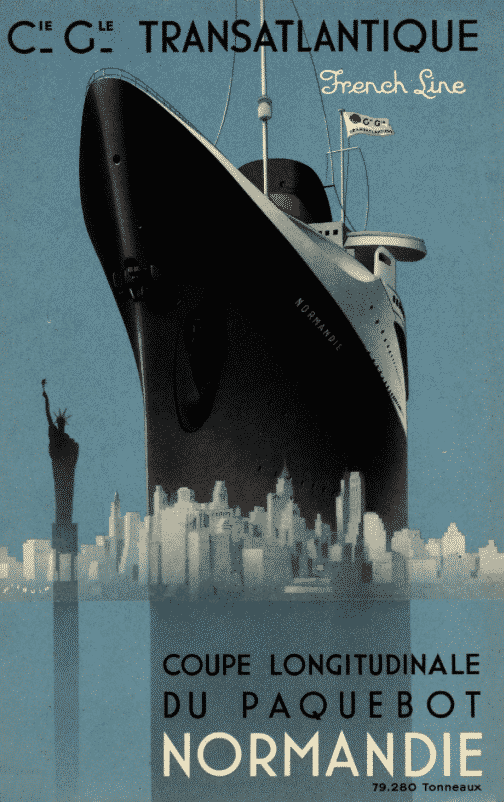 You're never too young or too old to be fascinated by France's transatlantic ocean liners. The luxury, the glamour, the style, the spirit of adventure or the technical prowess… there's something to seduce everyone.Read more.
How the SAM shaped 20thC French design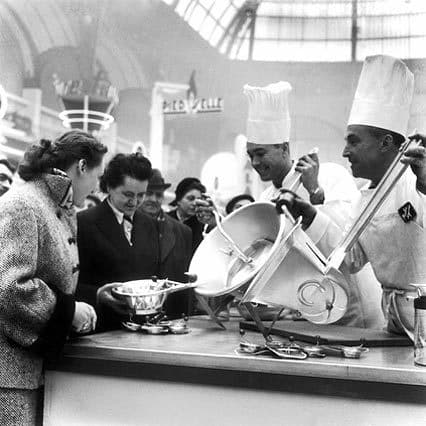 This week, I've been elbow-deep in French design and the Salon des Arts Ménagers.
The SAM, as it was known, was France's own "Ideal Homes" Exhibition.From 1926 to 1983, with a gap during WWII, it influenced popular French home design and aspirations like no other event.Read more.
INSIDER EYE
News and musings on the antiques trade in France
Where do French antique dealers buy their objects?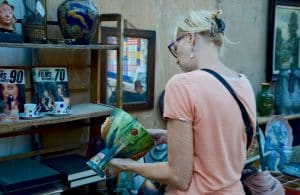 "Where do you find your stuff?" It's a question I get asked quite often. Even seasoned chineurs* can't resist asking. So here's a peek inside the French antiques circuit. Read more.
Paris: The Bastille Antiques Fair – without the Bastille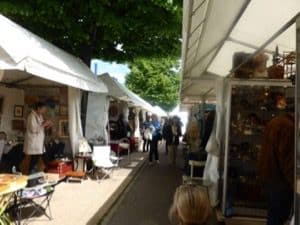 The Bastille antiques fair is a Paris institution – not least for its remarkable location. Held in May and November, the antiques fair straddles the Port de l'Arsenal, a delectable… Read more.
Chatou antiques fair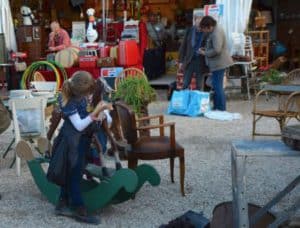 If you love antiques and you happen to be in Paris this weekend, you're in luck: the Chatou antiques fair is in full swing. Chatou is fabulous for its sheer … Read more.