Twinkle, twinkle, Pierrefonds pottery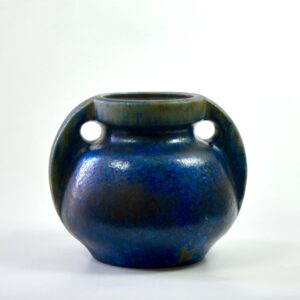 I do love crystalline stoneware, so I was thrilled to find this exceptional Art Deco Pierrefonds pottery vase (available to buy here). The rotund shape gives it Art Deco gravitas, and the crystalline glaze is so deep and scintillating, you could get lost in it. It's a bit of a star turn, even by Pierrefonds standards.
Few people use the manufacturer's full name these days – la Faiencerie Héraldique Artistique de Pierrefonds is such a mouthful! It's also misleading, since the factory didn't make much faience, and there's nothing very heraldic about a vase or a bowl. As for Pierrefonds, well, the famous 14th century Chateau de Pierrefonds overlooks the town of the same name, but Pierrefonds the pottery wasn't ancient or ancestral. It opened in 1903.
Heraldry and faience
Olivier de Sorra, Comte d'Arros founded the factory. He was a painter who was crazy about heraldry and thought it would make a wonderful theme for pottery. He chose Pierrefonds because of the chateau – the ideal inspiration, with its  turrets and gargoyles. It all sounded a grand idea, but in reality there wasn't much demand for heraldic soup plates. It wasn't long before the factory ran into trouble.
De Sorra found a buyer and there his part in the story ends. Meanwhile, the factory expanded its premises in rue Notre Dame, below the chateau
Left: A postcard showing the new factory in the foreground.  The kiln chimney is on the right of the picture. (Credit: Passion faience newsletter.)
Pierrefonds pottery, the glory years
In 1912, the business took a whole new direction under Émile Bouillon, a sculptor from Lorrain. The Art Nouveau movement was still in full swing and Bouillon applied his École de Nancy sensibilities to the firm.
It was under Bouillon that Pierrefonds began specialising in high end stoneware with beautiful crystalline glazes. Typically, pieces are in shades of light to mid blue, sometimes contrasting with ochre or green. Deep blue is one of the rare colours. Every piece was finished to impeccable standards. Every piece was unique – thanks to the chemical magic of enamels and zinc.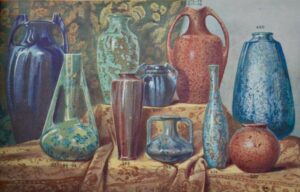 As Art Nouveau gave way to Art Deco, Bouillon moved with the times. Pierrefonds won the silver medal at the Exposition des Arts Décoratifs de Paris in 1925. By now, the company had established itself as a luxury manufacturer. The order books included America, Australia and Japan.
Left: designs from Pierrefonds' catalogue of 1928.
Émile Bouillon finally took over the company in 1937. His sons, Albert and René, successfully piloted the business until the 1960s. A long swan song followed their departure, until the factory closed for good in 1986.