Charles Schneider glass – modern luxury for the 20th century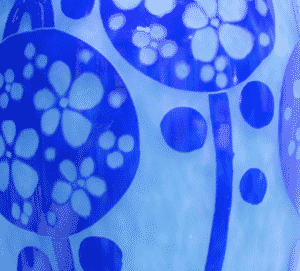 Schneider glass is some of the most dazzling French glass of the 20th century. Up there with the great French glassmakers, Schneider was a byword for luxury and modernity.
Charles Schneider and his brother, Ernest founded the Schneider glass factory in 1913 in Épinay-sur-Seine. Both men already had impressive careers under their belts. Charles, who studied at the Beaux Arts, Nancy, was noticed as a talented engraver and designer at Daum glass. Ernest, the business brain, managed Daum's Art department. When Auguste Daum died, the brothers decided it was time to test their ambitions and go it alone.
Astride Art Nouveau and Art Deco
After a false start due to World War I, success came quickly.  Charles Schneider was an incredibly prolific designer. He produced a myriad of designs, drawing on a palette of 50 colours harnessed in now subtle, now startling combinations. 
In the footsteps of Émile Gallé (1846-1904), Schneider made cameo glass with naturalistic, Art Nouveau motifs. At the same time, he also forged a distinct Schneider style, achieving complex technical effects in abstract pieces with wonderfully pure lines. These designs still look modern today. 
With the advent of Art Deco, Schneider was on hand with new, geometric acid-etched pieces, the ultimate in refinement. As ever, what characterised Charles Schneider glass – from tiny 'bijoux' pieces to monumental vases – was its modernity.
The company used three trademarks: Schneider, Le Verre Français and Charder (a contraction of Charles Schneider). Glass with the Schneider signature tends to be more subdued in style. It reflected French taste, which was relatively conservative. Le Verre Français and Charder designs were more exuberant and, more often than not, cost more to make: these ranges were popular in the US, Brazil and Argentina.
Schneider glass was a true expression of the Roaring Twenties, and it dominated the glass scene for more than a decade. But then came the Wall Street Crash, and a costly legal battle with David Guéron, the owner of the Degué glassworks. The Schneider brothers accused the company of flagrantly plagiarising its designs. In the end, they won the case, but by then the Depression had already taken its toll. Schneider glass filed for bankruptcy in 1939.
Cristallerie Schneider, a post-war renaissance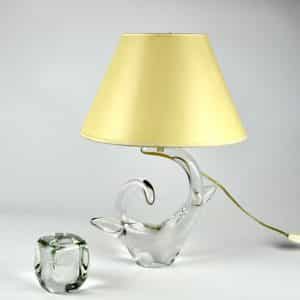 Of course, the story doesn't end there. In 1949, with the help of his father, Charles Schneider Junior and his brother Robert-Henri, founded the Cristallerie Schneider in Épinay-sur-Seine. They restored the modernity of the Schneider name throughout the 1950s and '60s.
Robert-Henri, a sculptor by training, was the creative force behind the venture. The young company produced sculptural crystal lamps, bookends and centrepieces pieces in solid crystal. The shapes were avant garde, sometimes embellished with tiny, controlled bubbles. The finest pieces rival Daum France in style and quality. Most but not all have a wheel engraved signature.
A calamitous factory fire and the oil crisis led to the decline of the Cristallerie Schneider. The factory closed in 1981.
Forgotten and neglected, Cristallerie Schneider pieces have a style all of their own. No wonder they're now finding favour with a new generation of mid-century design fans.