How 20thC French design was shaped by the Salon des Arts Ménagers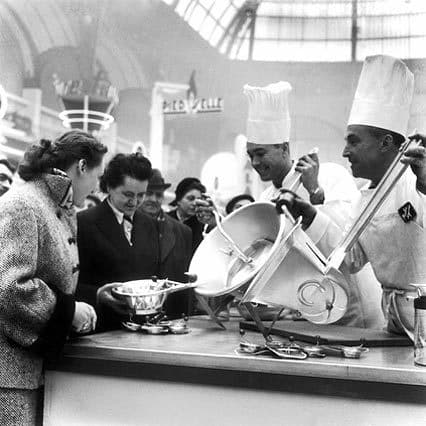 This week, I've been elbow-deep in French design and the Salon des Arts Ménagers.
The SAM, as it was known, was France's own "Ideal Homes" Exhibition.From 1926 to 1983, with a gap during WWII, it influenced popular French home design and aspirations like no other event.
Over the years, I've accumulated a pile of dog-eared catalogues and adverts, and browsing them is like opening a window on French social history. Full of style detail, they teem with iconic vintage collectables and designs.
Hygiene, convenience, style: meet Mechanical Marie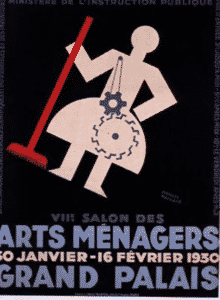 The year the SAM opened, France was feeling upbeat, the economy was booming and Josephine Baker danced in a banana skirt. Le tout Paris flocked to see what progress looked like, including an American show-home built under the glass dome of the Grand Palais.
In the 1930s, domestic appliances occupied the place of honour. The Salon started the decade with a mascot : "Mechanical Marie". A pin-up for the Machine Age, she held out the promise of a future without grime or drudgery.
It wasn't long before artists and decorators got in on the act, and began to promoted their vision of Art Deco refinement.
The SAM summed up the modern lifestyle dream:  hygienic, convenient and stylish.
Post-war cash – and dash
It was a very different story when the SAM re-opened in 1949. France was in the grip of a housing crisis, and ordinary folk had to contend with rationing and inflation. If you weren't insulated from all that, you'd probably have been left feeling like this visitor of 1951:
"It's time to go, my kids are waiting for me. And my old kitchen, my gas stove, which is as old as the Ark, my leaky tap and my stone sink. I can still dream. Who knows. I might win the lottery…"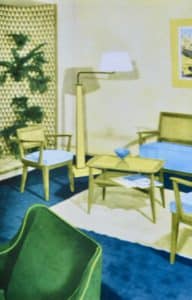 The turning point came in 1955. That spring, 1.4 million people came to the SAM – and this time they had cash in their pockets. Now spread out over 5 floors of the ultra-modern CNIT building, the SAM paraded not just All Mod Cons (dishwashers! electric coffee grinders!), but the whole mid century modernist shebang.
Light wood, modular furniture, strong colours and surprising materials captured the breezy optimism of the day. Plastics had come of age in twirly plexiglas and lucite lights and faux-rafia shades.
Perforated toleware became fashionable in everything from cocktail trolleys to jaunty tripod lamps, like the one designed by Jacques Biny, pictured below.
In those golden decades of the SAM, homemakers learned how to turn their cluttered apartments into harmonious havens, dressed with one or two perfectly pitched accent pieces.
Out went grandmère' s diamond cut crystal vase. In came fluid, luminous creations by Daum and Cristallerie Schneider, the new factory started by Charles Schneider's sons. Freeform art pottery was all the rage, hand crafted in a Vallauris studio alongside Picasso and Capron.
In the 1950s and '60s, the kitchen came out of the closet. Le Creuset's 'Coquelle' cookware, designed by Raymond Loewy, came in a range of delicious colours, bringing  a breath of American gaiety into French kitchens.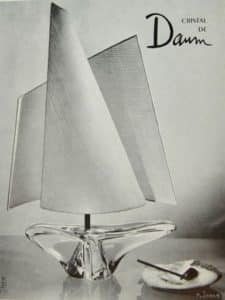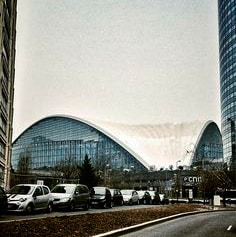 The twilight years
The SAM's success lasted until the early 1970s. By then, it was facing a new source of competition: the Prisunic catalogue, offering designer quality furnishings and furniture by mail order all year round. In 1974, the oil crisis struck, bringing the prosperitous Trente Glorieuses to an end.
This 1969 film gives a sample of the SAM's flavour, including see-through showers, lashings of Loewy and more than a soupçon of male chauvinism.
As for the 2-in-1 machine that washes your clothes and then does the dishes, I'll let you be the judges, Mesdames!