Four Paris exhibitions for Fashion History Fans
Heading to Paris? Fancy yourself a costume buff?  You're in luck. There's a swathe of exhibitions on fashion history from now through to summer.
Tenue Correcte Exigée: Quand Le Vêtement Fait Scandale
Musée des Arts Décoratifs, until 23 April 2017
Dress codes were made to be broken! This exhibition ranges over more than 300 years of eyebrow-raising outfits, and manages to make perfect sense of it all. Puffball breeches, zootsuits, tottering heels, sequinned man-frocks, Marlene's top hat, Mireille's 'bum' dress … all here, and lots more besides. Fun, informative and an eye-opener.
Musée Bourdelle, until 16 July 2017
If it's purity and elegance you're after, you should make a beeline for the Bordelle.
100 years after Balenciaga set up his first fashion house, this is a tribute with a difference: all the pieces are black.Without the distraction of colour, you can really begin to appreciate the Spanish couturier's incredible mastery of construction and form. They didn't call him the couturier's couturier for nothing…
Close by Balenciaga's sculptures in fabric you'll see the the sculptures of Antoine Bourdelle. This was his studio until his death in 1929.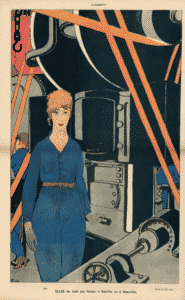 Mode & Femmes : 14-18 
Bibliothèque Forney, until 18 June 2017. Free
This is a little gem of an exhibition, inside a little jewel of a building (but more on that in a moment.)
I always thought women's fashion ground to a halt when WWI broke out. It didn't. It adapted, taking the influence of war in its (energetic) stride. That's the focus of this exhibition, shown via costumes, catalogues, fashion plates and other documentary examples. It's also a good excuse to visit one of the few 15th century buildings left in Paris. (Don't miss the cannonball embedded in the wall, a souvenir of the July Revolution of 1830.)
Musée Guimet, until 22nd May
I'm mesmerised by beautiful textiles, so this one was not to be missed.
The stars of the show are 150 historic kimonos from the Japanese house of Matsuzukaya, dating from the 15th century to the 17th century. It's a treat to see these exquisite, ceremonial garments, not least because they've never been outside Japan before. The exhibition also looks beyond Japan, weaving in the likes of Paul Poirier, Yves Saint-Laurent, Franck Sorbier, Kenzo and John Galliano. All came under the spell of the kimono, bringing their own creativity to it.